Hopeless romantic, Young Money rapper, Drake, has yet again been romantically linked to a woman in the industry. This time it is Roc Nation's newest starlet, UK singer Rita Ora. There were reports in the UK that after their show on Monday, the two were extra friendly backstage. A source from thesun.co.uk reported,
"Ora and Drake have been good friends for a while now but things seemed more serious this week. They were all over each other backstage at the gig on Monday and weren`t trying to hide it."
Rumors of Rita and Drake started to brew in mid-April when he invited her to be his opening act on his UK leg of his Club Paradise Tour. Although the R.I.P. singer—which Drake penned—played the lead role in Drake's video for 'Miss Me', she is not the first leading lady to be linked to Drake. Previously there were speculations that he was dating another Roc Nation singer, Rihanna,, fellow Young Money artist, Nicki Minaj,, and popular stripper, Maliah Michel, among a host of others. There have also been whispers that Rita was dating reality star Rob Kardashian but that was short lived due to her team allegedly pressuring her not to take it any further because it could hurt her career. Drake is infamous for talking about his love life through his music; maybe we'll get a song dedicated to Rita on his upcoming album or even a duet. What are your thoughts? Do they make a cute couple or could you care less?
You can also check out her tour diary which features Drake at the 1:25 mark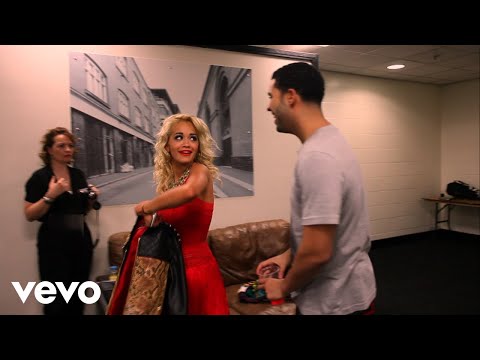 [SOHH]