16 NBA Players Tested Positive For COVID-19
NBA Announces 16 Players Have Tested Positive For COVID-19, As Season Is Expected To Resume In A Few Weeks
The NBA and the NBA Players Association has announced that 16 players have tested positive for the coronavirus. Out of 302 players that were tested, only 16 of the tests came back positive on June 23. The coronavirus tests are still being conducted on all 22 teams that are expected to play when the 2019-2020 season resumes in Orlando on July 30.
League commissioner Adam Silver spoke about the results in a conference call today (June 26) stating,
"One thing we're learning with this virus is, so much is unpredictable, we're not saying full steam ahead no matter what happens. We all talk daily, and we're gonna see how this continues to play out. But we feel very comfortable right now with where we are."
The NBA and the NBA Players Association announced that some players contracted the coronavirus in an official statement,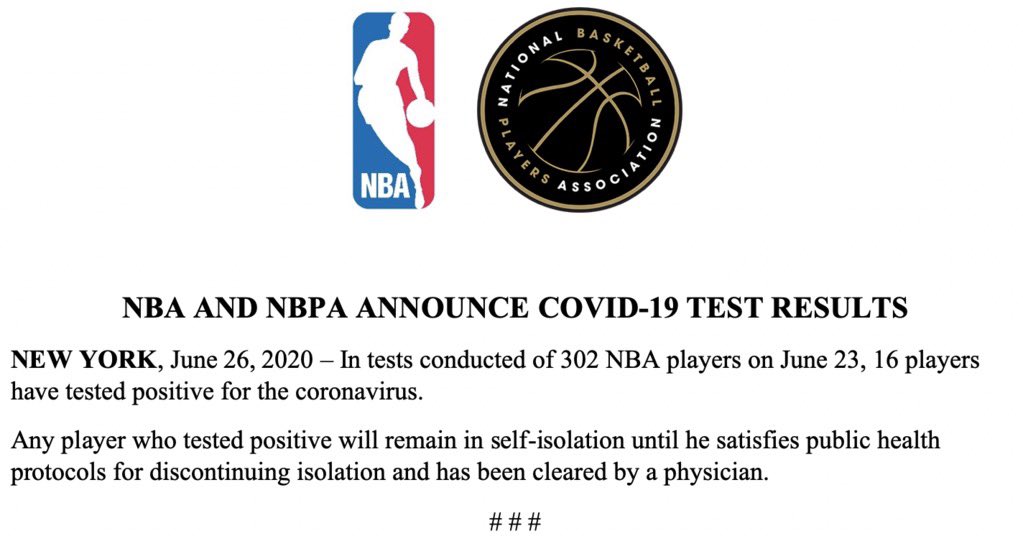 Although the league did not disclose the names of the players that contracted the virus, players such as Jabari Parker, Malcolm Brogdon, and Alex Len have come out and announced that they have COVID-19. The players are among other players that contracted the virus earlier this year such as Donovan Mitchell, Christian Wood, and Rudy Gobert.
Rudy Gobert who was one of the first players to contract the virus, announced in a statement back in March how sorry he was for the way he behaved as the virus was spreading in the U.S.
Donovan Mitchell who found out around the same time as Rudy Gobert had also released a statement earlier this year about getting the coronavirus and the state of his health at the time.
The league has not announced the results of the tests conducted on staffers and other members of team travel parties, who are also part of the mandatory testing. So far there is a 5.3% rate of positive tests across the league. The NBA and the players association says that any player who has tested positive will stay in self isolation until "he satisfies public health protocols for discontinuing isolation and has been cleared by a physician."
What are your thoughts on the NBA resuming the season despite 16 more players testing positive for the coronavirus? Tell us your thoughts in the comments below.